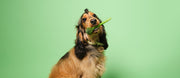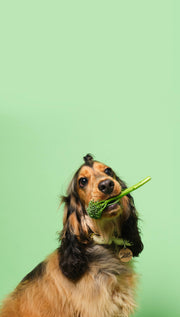 We pledge to have all products in recyclable packaging by 2025
At Pooch & Mutt our goal is to do our best for people, pets & the planet. We have been awarded Ethical Accreditation by The Ethical Companies Organisation every year for over a decade. We are constantly looking at ways to improve our business and to lessen our impact, and your pet's impact, on the environment.
We feel that it is important to do the right thing and to take into account all implications. We see quite a few brands involved in 'Greenwashing', making decisions that make the brand look like it's doing the right thing, without actually doing what is best. Below shows where we are currently at, the projects that we have in progress and the reasons that we have chosen not to use certain packaging formats.
Wet Food TETRAPAKS
100% RECYCLABLE
Our wet food comes in 100% recyclable TetraPaks with an easy tear open top
RENEWABLE RESOURCES
TetraPaks are made from over 70% renewable resources
EASY TO RECYCLE
Recycled by 93% of local authorities - so you can add it to your home recycling bin
REDUCED CO2
Proven to reduce CO2 emissions by over 80% compared to a can
Shop WET FOOD
MINI-BONE TREATS
RECYCLABLE TUBES
Our Mini-bone treats are packaged in recyclable card tubes that you can add to your recycling bin
MADE FROM TETRAPAKS
The tubes themselves are are also made from recycled materials.... including recycled TetraPaks
SHOP TREATS
Plant-based Packaging
We are the first pet food brand to use sugarcane as a raw material in packaging. This plant-based plastic is made from the waste of renewable energy source sugarcane, which absorbs CO2 from the atmosphere as it grows and the waste is usually thrown away, so this is a double-positive.
We're currently trialing this green plastic with our supplements range, and if successful we'll be moving our dry foods to this environmentally friendly packaging too.
Made from sugarcane
GREEN PLASTIC
Our plant-based plastic is made from renewable raw material Brazilian sugarcane
NEGATIVE CARBON FOOTPRINT
Production of this packaging contributes to a reduction of greenhouse gas emissions
51% SUGARCANE
Made from over 51% sugarcane. This is the maximum that we can currently use, but we're working hard to get this higher
LOOK FOR THE LOGO
We're trialling this sweet packaging with our Bionic Biotic & Mobile Bones supplements
SHOP SUPPLEMENTS
THE FUTURE OF OUR DRY FOOD PACKAGING
This is the biggest area we are working on at the moment, and the hardest one to get right. Our current dry food packaging falls under recycling code 7, which is not recycled in home-recycling in the majority of UK local authorities.
'Recyclable' plastic packaging: Some other pet food brands say 'recyclable' on plastic packaging. This tends to be PE/PE monostructure packaging. Whilst technically-speaking this is recyclable there will be a note on the back explaining that it is not recyclable in-home recycling, and needs to be taken to a supermarket to be recycled in their carrier bag recycling programme. We are looking for a better route, as we think there is a potential problem with these bags contaminating home-recycling and very few people actually take them to the supermarket (many of which don't actually have carrier bag recycling programmes). There is a small chance that local authorities will move to recycling this type of monostructure packaging and if they do it is something we will look at again, but that feels like it's a long way off at the moment. The local authorities are already struggling to recycle the materials that they say they can.
Biodegradable packaging: 'Biodegradable' is a claim that we see on some packaging. This is rife with problems; Mostly this is industrially biodegradable packaging, not home-compostable, and the empty packs rarely make it to an industrial biodegrading plant. More often than not they get added to home-recycling, which contaminates the recycling. Some people may add to their food waste collections (if they have them) and this would be considered contamination by many local authorities. The other big problem is that these are often made food products like corn, we think it's better to get food to people (and animals) that need food, rather than use it as packaging. Growing more crops also means more land used for crops, which means less bio-diversity and higher use of pesticides.