Fresh Wet Dog Food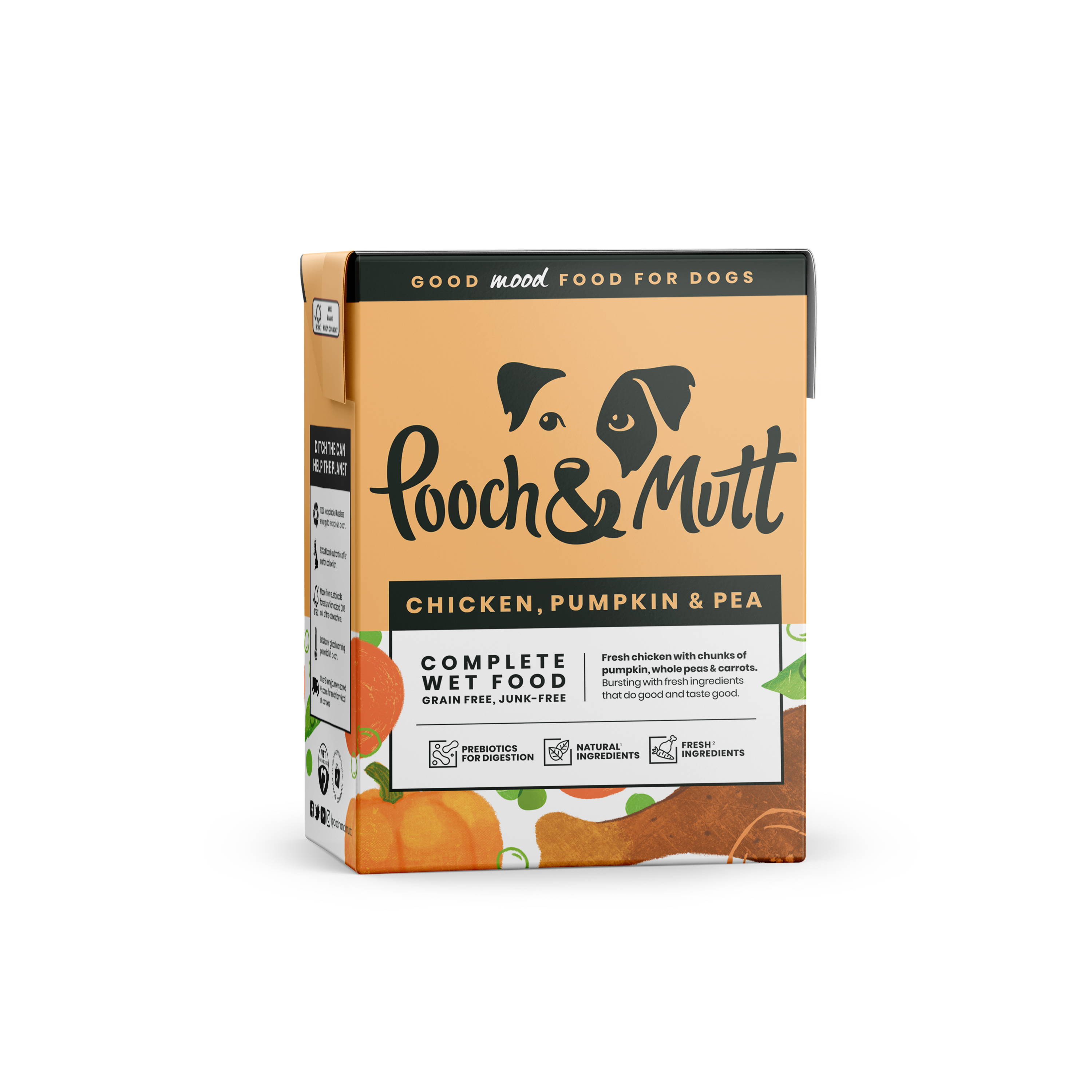 Fresh, honest,
environmentally friendly
health food for dogs
Help your dog feel their best, inside and out.
Great tasting, loved by even the fussiest dogs.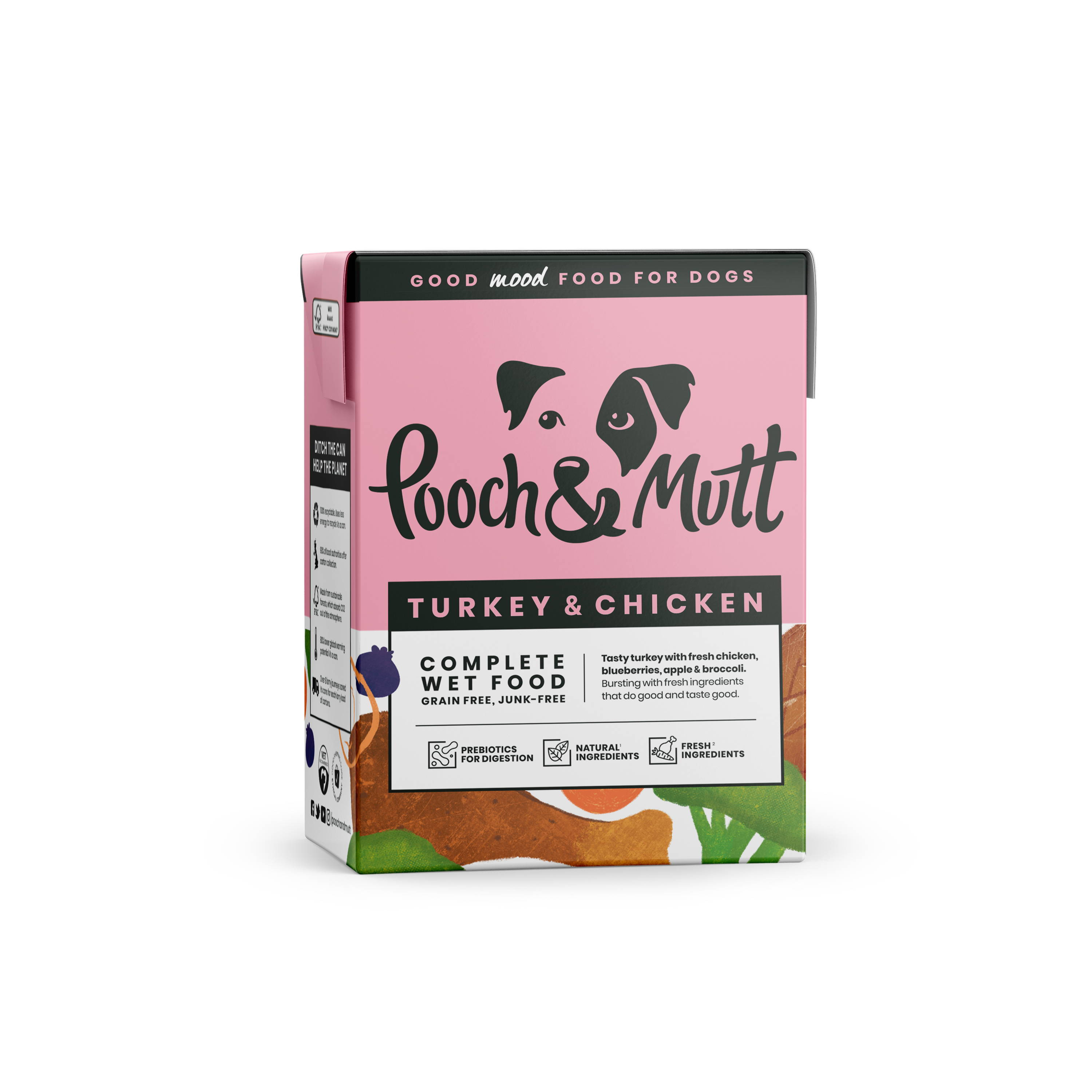 At Pooch & Mutt we believe that you deserve to know what you are feeding your dog.
When you pick up a pack of Pooch & Mutt food you will see ingredients that you recognise. Most of the "Big Pet Food" brands hide behind confusing labelling regulations, which enable them to do things like put "Chicken" on the front of the pack, but have as little as 1%!!!! chicken in the pack.
When you see the ingredients on Pooch & Mutt packs, not only can you be sure that those ingredients are in there, you can also see exactly how much is in the pack.
+ Fresh ingredients that you can see
When you open your dog's pack you will see the ingredients that we tell you are in there.
You'll see delicious pieces of pumpkin, carrots, peas and more... not just a lump of "derivatives" like you get from the big brands.
They also smell like real food, because they are real food!!
+ Added vitamins, minerals and prebiotics
All Pooch & Mutt cartons have added vitamins, minerals and prebiotics, to keep your dog happy and healthy.
Prebiotics are essentially food for the good bacteria in your dog's gut. Adding prebiotics gives helps the good bacteria thrive, which means that the food is better broken down into individual nutrients, so that those nutrients can be used better by your dog's internal systems.
The foods are "complete" foods, meaning that you dog will get all the correct nutrients that they need to live their best lives.
+ Environmentally friendly
Independent studies have proven that TetraPak cartons have 80% lower global warming potential Vs cans.
This comes down to 5 main reasons:
1. Raw materials
2. Production
3. Transportation of empty packaging
4. Storage and transportation of final product
5. Weight
Watch the video below to find out more
+ 4.9/5 independent Feefo rating
Reviews on Pooch & Mutt are independently collected and published by Feefo. They are real reviews from real people that you can trust.
The average rating for the wet food cartons is 4.9/5 with comments including:
"The package is prefect and when my furbaby sees his cupboard open he knows that very soon he will be eating perfectly made food with every taste he loves" Lesley Wilson
"Really tasty food. In easy open cartons. No nasty additives" Ann Dean
"Buster is one fussy eater, but he is woofing this food down" Jane Garvie
"Dog loves the food and looks forward to meals" Brenda Stannard

"
"Great quality food, eco friendly packaging and my dog loves all the different flavours" Adele Saywell
+ Even the fussiest dogs love them
Most dogs are fussy because they have trouble digesting some foods.
Pooch & Mutt wet food are packed with good, healthy, natural fresh ingredients, along with prebiotics to aid digestion.
This means that dogs digest them well and get the most benefits out of them.
Even the fussiest dog loves them!!
A huge percentage of serotonin, the hormone that makes us and our dogs feel good, is located in the gut. The gut is sometimes known as "the second brain".
This means that what our dogs eats dramatically effects how they feel, how happy they are and they behaviour.
The high quality, fresh ingredients in Pooch & Mutt cartons, combined with the prebiotics to aid digestibility, means that your dog's levels of serotonin will be optimised, leading to them feeling happier and healthier, which helps them behave better.

Ditch the Can. Help the Planet.
The can is over 200 years old
The can is over 200 years old... Invented in 1810. That's 6 years before the first camera, 30 years before the postage stamp, 79 years before the light bulb, 103 years before the bra and 128 years before the ballpoint pen. It was great technology 200 years ago, but times have changed. Independent lifestyle analysis studies have proven that TetraPak cartons have 80% lower global warming potential Vs cans.
At Pooch & Mutt we care about the environment and we know that you do too. We think that it's time to Ditch The Can and Help the Planet.
+ Vet recommended since 2008
Pooch & Mutt launched as a canine health supplement company in 2008. We have positive nutrition at our heart and our products have been recommended and sold by vets since we launched.
We know that there seem to be new pet food companies sprouting up everywhere at the moment. We've been around over a decade and seen many come and go. Our continued success is down to the fact that we make the highest quality products, putting your dog's health above everything else.
+ Consistently high customer ratings
Whether on the independently collected Feefo reviews on our website, or on other sites like Amazon, you will see that Pooch & Mutt products get consistently high reviews.
The "Big Pet Food" brands have £millions to spend on marketing to tell people about their products. We don't. The most valuable marketing we have is when our happy customers tell their friends about how good our products are. There is no shortcut to this and no way to cheat it, it's down to consistently making the best product that we can to keep your pooch as happy and healthy as they can be.
+ An ethical, award-winning, UK company
Pooch & Mutt is one of the most awarded companies in the pet food world. Awards and accreditations include:
- Accreditation from PETA (People for the Ethical Treatment of Animals)
- Winner of 'The Ethical Award' for 8 years in a row
- Feefo Gold Award for Customer Service
- 2x Grocer New product Awards
- 2x International packaging design awards
- Winner of 'Manufacturing Entrepreneur of The Year' at the GB Entrepreneur Awards
- Winner of the 'Made in Britain' Award at the Smarta 100 Awards
- Finalist at the National Business Awards
All products can be ordered from www.poochandmutt.co.uk on subscription with additional savings, so that your dog will never run out again.
A Small Great British company
All Pooch & Mutt food is Pepper-Approved.
Pooch & Mutt is a small, Great British company, based in Clapham, SW London, founded by Guy Blaskey, pictured with his cockapoo, Pepper - Pooch & Mutt's Head of Product Development. No products make it to the shelf if they don't first get Pepper's seal of approval.
Pooch & Mutt is one of the few dog food companies where you can still call the office and speak to the founder and where the founder is still involved in all part of the business, making sure that the all products and services are the best that they can be for you, your dog... and of course, for Pepper.